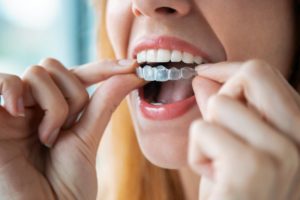 Your dentist likely stressed the importance of wearing your retainer to preserve your results after getting your braces taken off. However, a study revealed that one in five patients stop using it within 19-24 months of completing orthodontic treatment. Are you a part of this statistic? If so, your teeth might have gradually shifted back into their pre-braces position. Since you had a mouthful of metal when you were younger, you're probably considering clear aligners this time around – but is that possible? Find out what you need to know from your dentist in Myrtle Beach about wearing Invisalign after braces.
What Is Invisalign?
Invisalign is a modern orthodontic treatment that uses a series of plastic trays to straighten your teeth. The clear aligners exert gentle but constant pressure on your teeth to gradually shift them into a more desirable position. Each aligner is custom-fitted by your dental office and usually worn for two weeks. Invisalign is one of the most popular options available today, largely because it is removable, comfortable, and discreet!
Is Invisalign Effective After Braces?
In most cases, you can get Invisalign if you've already had braces! However, your dentist will need to examine your teeth to determine if it's the best solution for your smile. A lot of adults use Invisalign to correct misalignment that occurred because they didn't wear their retainers after braces.
In some cases, the misalignment might even be as bad as it was before any orthodontic treatment! Fortunately, Invisalign can address these issues much more quickly and discreetly.
Mild spacing and crowding issues can typically be corrected within six months. On the other hand, patients with severe misalignment and bite correction needs might finish their journey in 1-2 years. Keep in mind that after treatment, you must wear your retainer as instructed to prevent your teeth from moving again.
The Benefits of Invisalign
If you've worn braces in the past, you'll quickly notice the advantages of Invisalign, including:
Increased Comfort – Unlike metal wires and brackets that poke your mouth, the smooth plastic aligners offer a much more comfortable orthodontic experience.
Faster Treatment Time – In most cases, treatment can take 6-12 months to complete. Although it can vary depending on the severity of your issues, the required time will likely be shorter than your first stint with braces.
Subtlety – The clear aligners are virtually invisible, meaning no one will even notice you're wearing them! You can maintain a confident, natural-looking appearance throughout your treatment.
Lower Maintenance – Because the trays are removable, there aren't any dietary restrictions with Invisalign. Just remember to take them out before eating, drinking, or flossing and brushing your teeth.
Are you interested in getting Invisalign after braces? Contact your dentist in Myrtle Beach and ask how you can get started. Before you know it, you'll have a beautiful, straight smile once again!
About the Author
Dr. Jack Markusen counts on his experience, cutting-edge technology, and being attentive to the needs of patients to create highly successful treatment plans. He offers a complimentary smile exam for every new patient so you can get the most out of your dental care. If you are interested in Invisalign, Dr. Markusen can show you what your smile will look like via an iTero 3D Scanner, plus dental insurance is welcome and flexible financing is available. You can schedule a consultation on his website or by calling (843) 916-0990.