Dental Implants – Myrtle Beach, SC
A Seamless, Long-Lasting Solution to Tooth Loss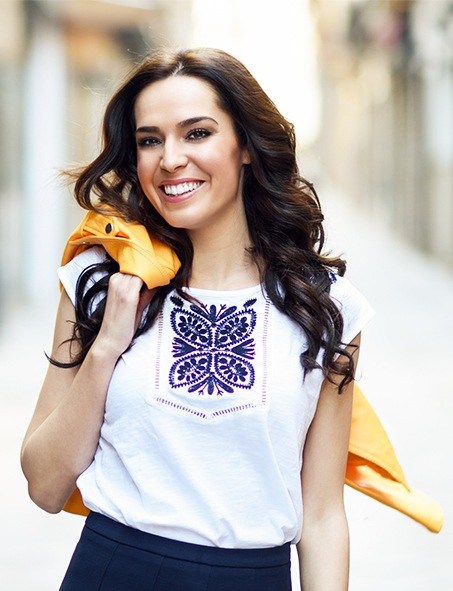 While it's not possible to turn back time when it comes to losing natural teeth, dental implants are the next-best solution. Once complete, this modern treatment provides comprehensive tooth replacement that is virtually seamless from every angle, including aesthetics, durability, and overall feel. Dr. Markusen pairs his extensive restorative expertise with trusted oral surgeons and periodontists in the community in order to help his patients regain the complete, confident smiles they deserve. Contact us today if you would like to schedule a consultation for dental implants in Myrtle Beach!
Why Choose Docmark.com for Dental Implants?
Able to Replace Any Number of Missing Teeth
Partnered with Myrtle Beach's Best Oral Surgeons & Periodontists
Flexible Dental Financing Options Available
What Are Dental Implants?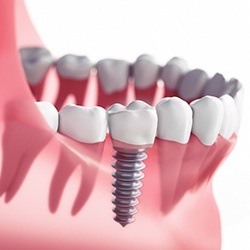 A dental implant contains three parts: a titanium post, a metal connector called an abutment, and your final restoration. The implant post is surgically inserted into the jawbone to replicate the root structure of a lost tooth. It then merges with your jawbone thanks to a natural process called osseointegration. This process is what gives dental implants such a lasting, reliable foundation for your new tooth or teeth, which are secured into place via the abutment.
Dentists and patients alike often consider dental implants to be the pinnacle of tooth replacement, and it's not hard to see why. When you reconstruct your pearly whites from the roots up, the end result is a smile that looks, feels, and functions exactly like your original teeth!
The 4 Step Dental Implant Process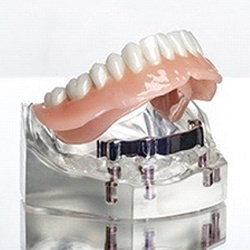 The dental implant process does indeed require multiple appointments over the course of several months or even a year. Depending on your case, the process may take longer than others, especially if you require preliminary treatments. However, the results you'll achieve in the end are well worth the time, money, and effort. Dr. Markusen partners with a trusted specialist in the Myrtle Beach community to place your dental implants. Then, once you are fully healed, you will return to our location so that Dr. Markusen can design the ideal custom restoration for the implant or implants, resulting in a fully replenished smile that looks just as natural as the original. To learn more about how dental implants work in Myrtle Beach, review the information below and do not hesitate to contact us with any additional questions.
Initial Dental Implant Consultation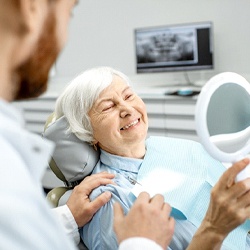 You will first schedule an initial consultation with Dr. Markusen. It is during this appointment that he will examine your oral cavity, facial structure, and bone density to determine if you are a qualified candidate. If so, he will capture impressions of your smile and begin preparing a treatment plan. If necessary, he may recommend preliminary treatments like periodontal therapy, tooth extraction, or a bone graft if you show any signs of gum disease, tooth decay, or weakened bone that could cause your implants to fail.
Dental Implant Surgery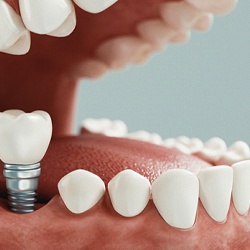 Partnering with a trusted specialist in Myrtle Beach, Dr. Markusen will make sure your surgical placement is smooth and successful. Depending on the number of dental implants you will need, the implant dentist in Myrtle Beach will make one or more small incisions in your gums before inserting each implant and moving it into its proper place. After closing your gum tissue, you will be instructed to spend the next 3-6 months at home recovering.
Dental Implant Osseointegration/Abutment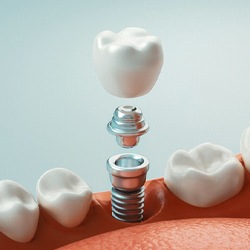 While at home, the process of osseointegration will begin, which is the fusing of your dental implants in Myrtle Beach with your jawbone and surrounding tissues. It is during this time that you will need to follow detailed instructions by the oral surgeon and Dr. Markusen to ensure your recovery is swift and successful. This means avoiding certain foods, lifestyle habits (i.e., smoking or excessive alcohol consumption), and making sure you are taking any over-the-counter medication as instructed to minimize discomfort and swelling.
Once you are fully healed, you will return to have your abutments put into place. These are small, metal appliances that sit on top of your implants and connect to your restoration.
Delivery of Dental Implant Restorations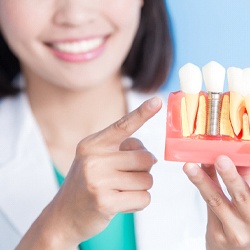 The final step in the dental implant placement process is to receive your customized restoration. Because dental implants are a versatile tooth replacement solution, Dr. Markusen can have a dental crown, bridge, or denture created depending on how many teeth were originally missing. Once it is secured in place, he will ensure it looks completely natural and provide a final polish before giving you the green light to start enjoying your new smile.
Benefits of Dental Implants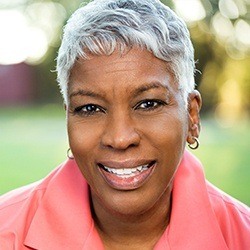 Did you know that according to the American Dental Association (ADA), around 5 million people are already living with and enjoying the benefits of dental implants? These permanent prosthetics offer far more than traditional dentures or fixed bridges and are capable of lasting an entire lifetime! When compared to other solutions, dental implants stand high above the rest, capable of mimicking the natural tooth structure and providing continuous stimulation to the jawbone – an advantage that causes many professionals to declare it to be the "gold standard" for tooth replacement. If you are on the fence about your chosen method of treatment and want to learn more about the benefits of dental implants in Myrtle Beach, check out the list below:
Day-to-Day Benefits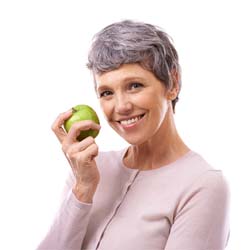 No significant restrictions to your diet are required with dental implants. Instead, you can consume a nutrient-rich diet that is healthy not only for your body but also for your mouth. Your bite force and chewing power will dramatically improve once your implants are in place, allowing you to consume various textures with ease. Not to mention, your prosthetics will remain firmly in place, eliminating the worry of your teeth slipping or falling out of place like they could with traditional dentures.
If you prefer to live life outside the house, mingling with family, friends, and colleagues, you can't go wrong with dental implants in Myrtle Beach. Unlike denture-wearers who often admit to avoiding social situations and feeling embarrassed by their prosthetics, you can look and feel confident knowing your implants are secured to the jawbone, creating a stable, more durable smile that allows you to live life to the fullest.
Implants can be cared for just like natural teeth with proper at-home oral hygiene and routine checkups. You'll lower your risk of dental decay, gum disease, and other common oral health problems because of the ease in maintaining your dental implants each day.
Once dental implants have been fully restored, their aesthetic value and level of function are essentially indistinguishable from original teeth.
Health Benefits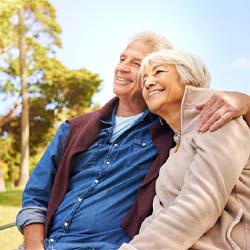 If you want to lower the chances of developing systemic diseases that could potentially shorten your lifespan, you'll want to replace your missing teeth with dental implants. By doing so, you will not only minimize your risk for heart disease, diabetes, and other common health conditions, but you'll also help to extend your lifespan, allowing for more years of laughter, fun, and excitement.
You'll avoid altering your natural, healthy teeth. Fixed bridges require using your adjacent teeth to hold the prosthetic in place; however, with dental implants, they'll replace the full tooth structure without touching or bothering nearby regular teeth.
Oftentimes, tooth loss can cause natural teeth to move in an attempt to close the gap. But you won't need to worry about your healthy teeth shifting out of alignment because your implants will help to keep them in place.
Unlike traditional bridges and dentures, dental implants are designed to recreate the entire natural tooth, starting with the root that is completely hidden beneath the gum tissue and bone. This new "root" stimulates the bone material and successfully prevents deterioration, resulting in a much healthier outcome for their overall smile.
Long-Term Benefits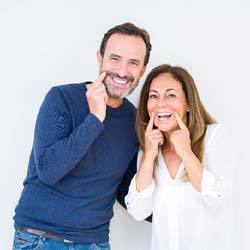 By relying on a trusted implant dentist in Myrtle Beach to place your dental implants, you can expect a success rate of 98%. After 10 years, you can still feel confident in your decision because the success rate only lowers to 90-95%.
If saving money is what you want to achieve, dental implants will allow you to do just that because there will be no need to purchase dental adhesives, specialized cleaning supplies, or undergo frequent adjustments and replacements every 5-7 years like you would if you had traditional dentures or fixed bridges. Yes, their upfront costs are more expensive, but dental implants will save you much more in the long run.
Dental implants can last for decades at a time, and many patients can enjoy their new "teeth" for the rest of their lives without issue.
Who Dental Implants Can Help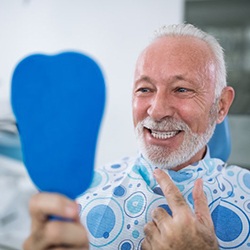 As a dental implant dentist in Myrtle Beach, Dr. Markusen understands how difficult tooth loss can be. Fortunately, most adults can experience the many great benefits only offered by dental implants. While proper oral and overall health is necessary, you can trust that Dr. Markusen and his team will go to great lengths to ensure you get the smile you deserve. Whether you're approved for immediate implant surgery or you require preliminary treatments to create a more structurally sound and healthier environment for your implants, we will recommend the appropriate steps to help you embrace a better quality of life with permanent prosthetics.
Who is a Good Candidate for Dental Implants?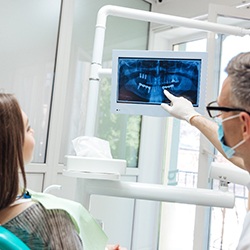 There are three factors your implant dentist will consider when determining if you are a qualified candidate for treatment. Remember, most adults are considered eligible. Even if you don't believe you will "pass," it's best to let Dr. Markusen examine your oral cavity and facial structure. It is through this evaluation that he will approve you for surgery or recommend you for preliminary treatments.
The three factors that will determine how he will proceed include:
The status of your oral health – Do you have any signs of decay or disease that might require periodontal therapy or tooth extraction? If so, you'll need to complete the necessary treatment to ensure your oral cavity is healthy and ready for dental implants in Myrtle Beach.
The status of your overall health – Are you in good enough health to undergo minor oral surgery? If so, you can expect to be approved.
The status of your jawbone – Because this area serves as the foundation for your new smile, it is necessary that you have enough jawbone to support your implants and customized restoration. If you do not, you may be required to undergo a bone graft.
Dental implants are not only viewed as the gold standard for tooth replacement, but they're also extremely versatile when it comes to treating all types of tooth loss, including:
Missing 1 Tooth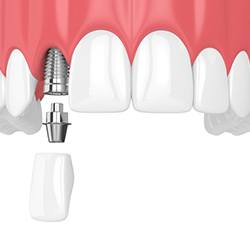 Missing just one tooth can make a drastic difference in how you eat and speak. According to the American College of Prosthodontists, more than 120 million people already live with the effects of a single missing tooth. Fortunately, using one implant post, your oral surgeon can easily mimic the natural tooth structure by surgically placing it into the jawbone and allowing it to fuse with the bone and surrounding tissues. Once healed, a metal abutment and customized dental crown will be placed on top to create the look and function of your newly replaced tooth.
Missing Multiple Teeth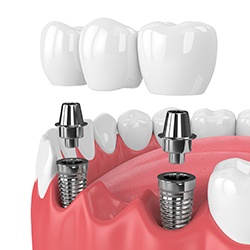 When two or more consecutive teeth are missing, an implant bridge can be created to eliminate the unwanted gap in your smile. Requiring only two implant posts, they can be placed in the outer sockets before a custom-made bridge is placed on top. By choosing this method of treatment, you can avoid altering your natural, healthy teeth that would normally serve as anchors for a traditional bridge. But what if your missing teeth are not consecutive? Not to worry! Dr. Markusen can create an implant partial that attaches to the top of your prosthetics.
Missing All Teeth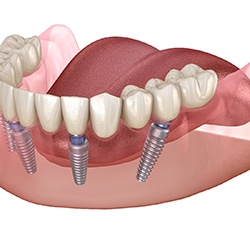 The American College of Prosthodontists also states that an estimated 36 million people in the United States are living without any natural teeth. If you are one of them, there's no need to settle for traditional dentures when you can opt for implant dentures. Using between 4 and 6 dental implants, your implant dentist can place them along the upper or lower arch before securing a customized denture into place. This will not only give you greater stability and functionality while eating and speaking, but you'll be free to smile with greater confidence, too.
Understanding the Cost of Dental Implants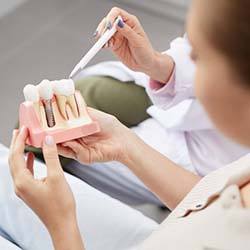 Every patient's circumstances are different when it comes to dental implants, which is why we won't be able to provide a concrete estimate of cost until you've undergone a one-on-one consultation with Dr. Markusen. Please keep in mind that there are several components to this procedure, including the surgical implantation of the posts, the possible addition of abutments/connectors, and the style/number of custom restorations needed. Our dental office manager and financial coordinator Tiffany will be more than happy to help you explore your payment options so that this transformative procedure blends well into your available budget.
It's also important to keep in mind that while dental implants are an investment, it's certainly one worth making when looking towards the future. More traditional prosthetics have a lower upfront cost but will likely require extensive upkeep and full replacements over the years. On the other hand, dental implants can succeed for decades with only minimal maintenance.