TMJ Pain & Teeth Grinding - Myrtle Beach, SC
Escape Chronic Jaw Pain For Good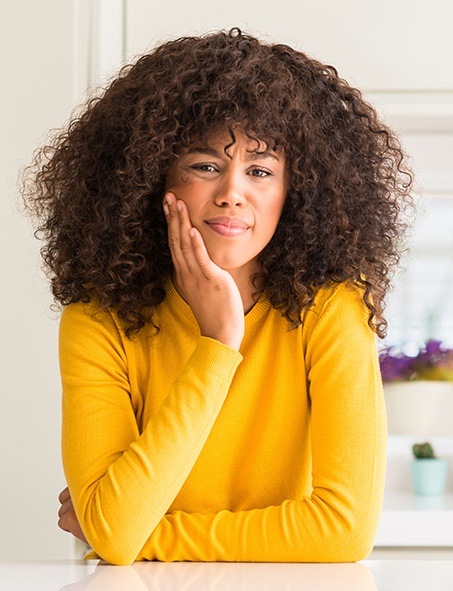 Your temporomandibular joint – or TMJ – is a tricky body part. It attaches your jawbone to the rest of your head, and it is integral to your ability to eat and speak. But when it doesn't function correctly, you may feel it all the way to your shoulders and back. Dr. Jack Markusen can customize an oral appliance to relieve your TMJ pain and protect you from the effects of teeth grinding. When you start wearing your oral appliance, you'll notice a few changes right away:
The relief of pressure and pain on your TMJ
Prevention of damage to your teeth from clenching and grinding them at night
The reduction and even elimination of related symptoms like headaches
Why Choose DocMark.com for TMJ Pain & Teeth Grinding?
NTI Tension Suppression System Dramatically Reduces Migraine Episodes & TMJ Pain
Modern Invisalign® Clear Braces Treatment For Bite Repositioning
40+ Years of Experience & Counting
Find Relief from The NTI Tension Suppression System
One of the major signs and symptoms of TMJ dysfunction is bruxism, which is also known as teeth grinding. While we're not sure if bruxism causes TMJ dysfunction or is the result of it, we do know that they're a painful combination of problems. You can find relief from bruxism and the resulting symptoms like mouth and head pain by having an oral appliance designed just for you by Dr. Markusen.
We're firm believers in the NTI Tension Suppression System, which is unlike any other oral appliance. You won't get the same results from a boil-and-bite mouthguard from the drugstore. Created to fit your mouth specifically, your NTI-tss device will rest comfortably on your upper or lower front teeth and reduce the intensity of teeth grinding and clenching. You may experience a dramatic reduction in your number of migraine episodes and your TMJ pain. Studies show that 82% of patients saw a 77% reduction in migraine episodes during clinical trials!
If you're ready to put an end to your TMD and teeth grinding problems, contact us online or call our dental office to schedule your complimentary TMJ treatment and teeth grinding treatment consultation.