Dentures – Myrtle Beach, SC
Replacement Teeth That Will Make You Smile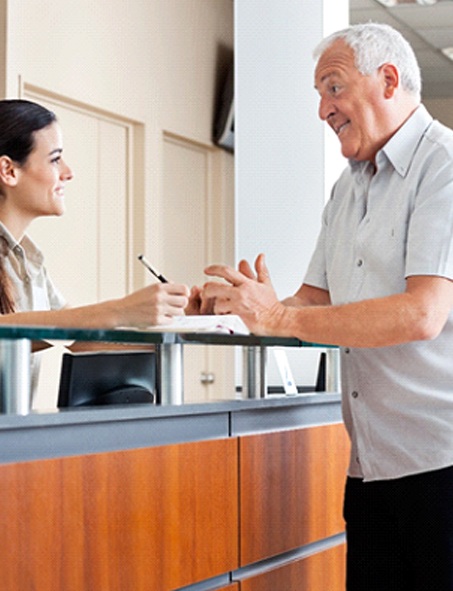 If you've ever gone any amount of time without a full set of teeth, you already know just how difficult it can be. When you work with Dr. Jack Markusen, you don't have to keep struggling on your own. We can provide dentures to help you regain the function and appearance you've lost along with your teeth. These prosthetics have come a long way in the last several decades, and you're sure to find that modern dentures can help you feel confident again. Would you like to learn more about dentures? Keep reading and then contact our Myrtle Beach dental office to schedule a consultation with Dr. Jack Markusen. We'll be happy to answer any questions and guide you to the right replacement option for your smile.
Why Choose DocMark.com for Dentures?
Fast Turnaround Time with Dental Lab
Decades of Clinical Experience and Training
Comfortable, Mess-Free Digital Impressions
Who is a Good Candidate for Dentures?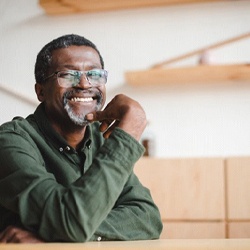 Basically anyone who has two or more missing teeth and an infection-free mouth qualifies for dentures. If you have gum disease or some other impediment, we'll have to treat the problem before getting you your new dentures. Otherwise, there aren't any other requirements for getting a natural-looking, custom denture that fits your current smile and can restore your confidence. When you come in for your consultation, we can examine your mouth to make sure new dentures are the right choice for you.
Types of Dentures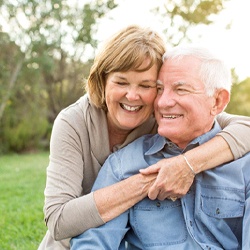 Dr. Markusen believes in giving each patient a custom restoration that feels as comfortable as possible and looks completely natural. That's why we offer three general kinds of dentures that can be fabricated to fit only you, depending on your needs.
Partial Dentures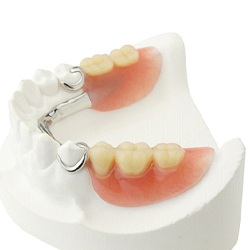 A partial denture is used if you still have natural teeth left in the arch. This type of denture fits in like a puzzle piece, connecting with your remaining teeth to complete your smile. Most of the time, the prosthetic teeth utilize a metal or acrylic clasp to stay in place.
Full Dentures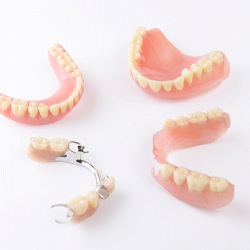 If you have lost all the teeth in your smile, then full dentures can help you. While they sit on top of your gum tissue, modern dentures use custom suction to keep from moving or sliding out of position. In fact, most of our patients with full dentures don't need to use denture adhesive, especially at first.
Implant Dentures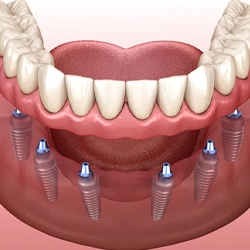 Are you looking for the most advanced way to replace your missing teeth? Would you like to eat everything you used to? When you attach your dentures to implants, it's possible! By anchoring your dentures to the jawbone via implants, you secure your replacement teeth just like natural ones. You also help your jawbone stay healthy and strong in the long term.
The Benefits of Dentures
Having a complete smile isn't just nice to have—it's a necessity. Properly fitting dentures allow you to eat a more balanced diet, enabling you to fuel your body with nourishing foods that otherwise would be difficult to eat. In addition, if you are missing teeth, you can feel very self-conscious and want to hide from view, which can have a damaging effect on your mental health. In other words, dentures can help you have better self-esteem, which is worth the investment in itself.
Denture FAQs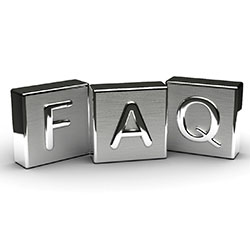 Dentures in Myrtle Beach are a tried-and-proven method of treating significant tooth loss. However, they are a big investment, so it's normal to have a few concerns before you're ready to commit to them. Don't worry, Dr. Markusen will explain everything during your denture consultation. While you wait for your appointment, here are the answers to the most frequently asked questions.
Can I sleep with my dentures?
Your denture dentist in Myrtle Beach, Dr. Markusen, will recommend wearing your new teeth for 24 hours after receiving them. After the first day, you'll need to get in the habit of taking your dentures out nightly to protect your oral and general health, as well as the lifespan of your investment. Your dentures will restrict blood circulation in your gums. The soft tissues need time to rest and get the nutrients they need to avoid inflammation, sores, and infections. Not to mention, your mouth is dark and moist. It's the perfect place for harmful oral bacteria to multiply quickly. Not only can the bacteria threaten your oral health, but they can also increase your risk of pneumonia. Removing your teeth before going to bed allows you to clean your mouth and dentures to keep your smile healthy. It will also prevent unpleasant odors and damage to your denture. Remember to place them in a soaking solution when they aren't in your mouth to keep them moist to prevent warping.
Do I use regular toothpaste to clean my dentures?
Your dentures aren't vulnerable to tooth decay, but that doesn't mean you can stop brushing. Your dentures will serve as your real teeth, so you'll have to choose your dental products carefully. Hard-bristled and abrasive toothpaste can scratch your prosthetic. Your teeth can look tarnished as food particles and bacteria get trapped in the small scratches. Dr. Markusen recommends using a soft-bristled toothbrush and mild hand soap or dishwashing liquid to clean your dentures. You can also purchase cleaning products designed for denture wearers. Besides brushing your dentures daily, don't forget to rinse them after every meal.
Will dentures change the shape of my face?
Your teeth are important for more than just a beautiful smile. They are also crucial for maintaining a youthful appearance. Unfortunately, significant tooth loss causes your facial muscles to sag, making you look years older than your true age. Dentures will instantly give your face a lift by supporting your facial tissues with support. With the right maintenance and care, your denture will fit snuggly to enhance the shape of your face for many years.
Do upper dentures always cover the palate?
Traditionally, an upper denture covers the roof of the mouth, but it can diminish the taste of food. As an alternative, you can choose a solution that looks like a denture used for the lower arch. It has a horseshoe shape, like that of an implant denture. Dr. Markusen will explain all your options and learn more about your preferences to choose the best style for your needs.