Invisalign® – Myrtle Beach, SC
Get No-Fuss Teeth Straightening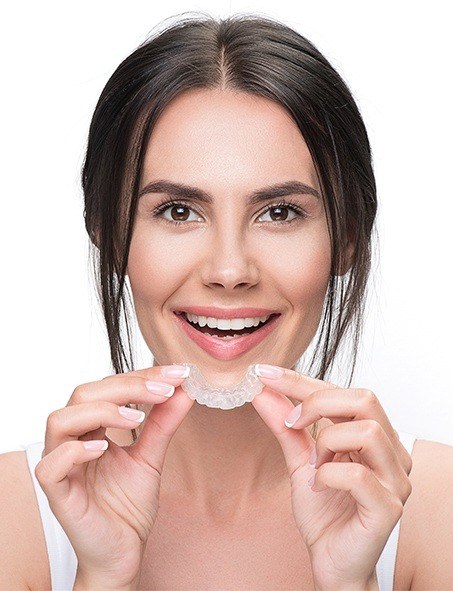 If you want a straighter smile, you may feel like your options are limited. Maybe you missed out on visiting the orthodontist as a teenager and now you're worried about having braces as an adult. Avoid the awkwardness of adult braces and ask us about Invisalign from Dr. Jack Markusen! These clear aligners from DocMark.com offer the best of both worlds: straighter teeth and a mouth free of metal. If you're ready to get no-fuss teeth straightening, give us a call today to see if Invisalign in Myrtle Beach is right for you!
Why Choose DocMark.Com For Invisalign?
Compassionate Dentist with Over 40 Years of Experience
Advanced Technology for Smooth, Efficient Treatment
Dental Insurance Welcome & Flexible Financing Available
How Invisalign Works
Invisalign has helped countless individuals to enjoy the benefits of a straighter, healthier smile. If you are thinking about undergoing this treatment, you have much to look forward to! Below, we'll take a closer look at the Invisalign process, from your initial consultation to maintaining your results after you finish wearing your aligners.
Getting Started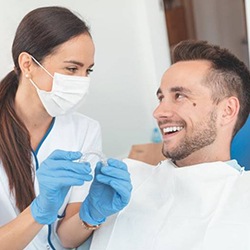 Your journey towards a straighter smile begins with an in-depth consultation, wherein we'll determine whether Invisalign is right for you. Invisalign is able to correct most types of misalignment, including malocclusion (bad bite), rotated teeth, crooked teeth, overcrowding, and gaps between the teeth. In some severe cases, however, traditional orthodontics might be a better option. Your consultation is also your opportunity to ask any questions you have about Invisalign's cost, its pros and cons, and what you can expect throughout your treatment.
Wearing Your Aligners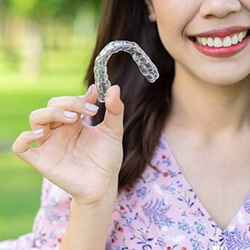 If it looks like Invisalign is a fit for you, we'll use our advanced technology, including our iTero scanner, to take detailed images of your teeth and get started on designing your aligners. Each aligner will be custom-crafted for your unique dental structures, ensuring effective and safe tooth movements. Once your aligners are ready, you'll wear each one for 20 – 22 hours each day for about two weeks. As the aligners apply constant, gentle pressure to your teeth, the teeth will gradually move into their proper positions. You're free to drink plain water while the aligners are in your mouth. However, if you are eating or drinking anything else, you'll need to remove the aligners to protect them from damage.
Maintaining Your New Smile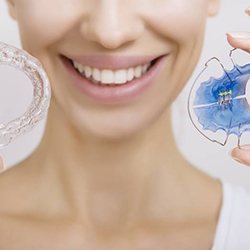 Once you work your way through all of your aligners, you'll have a beautiful new smile! To keep your smile looking and feelings its best, it's important that you wear a retainer. At first, you'll need to wear the retainer full-time so your teeth do not drift back out of place. After a while, you may be able to graduate to wearing your aligner only at night. Eventually, you might need to wear it just a few times each week.
Know What Your Smile Will Look Like with the iTero 3D® Scanner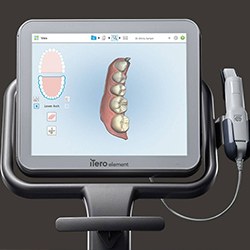 Invisalign treatment begins with an impression of your teeth. You can avoid the goopy impressions that make you want to gag with the iTero® scanner. We use this technology to quickly and comfortably scan all of your teeth. The camera will take thousands of images each second and immediately create a perfect 3D model of your smile on the computer screen.
We use this comprehensive model to plan your treatment. The images will help create aligners that fit your teeth exactly as they should. No more issues with poorly-fitting aligners! Plus, we will use the digital images to show you what your smile will look like after treatment. It's called the Invisalign Outcome Simulator. When you're ready to begin treatment, your aligners will be delivered quicker than normal because of the high quality and accuracy of these digital impressions.
Indications for Invisalign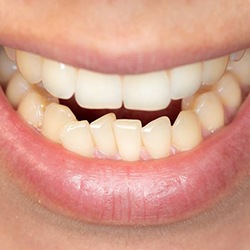 If you think Invisalign in Myrtle Beach only corrects crooked teeth, you'll be surprised to learn just how versatile this cosmetic dentistry solution can be! If any of the indicators listed below apply to your situation, Dr. Markusen might suggest Invisalign to correct the problem.
Crowded Teeth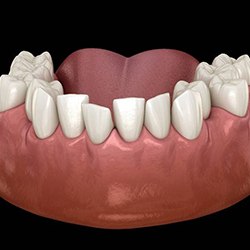 Are your teeth sitting too close together? Do you have trouble flossing between them or find that you are prone to cavities? Not only do crowded teeth create a less than attractive smile, but when they're too close together, this can become problematic for your oral health. Our cosmetic dentist in Myrtle Beach can use Invisalign to create the necessary space, so you can more effectively clean your teeth and gums and achieve optimal oral health with a beautiful smile.
Gaps Between Teeth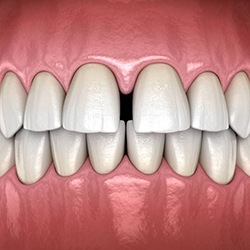 The ideal setup for your smile includes not only perfect alignment but also perfect spacing between teeth. If your teeth have significant gaps in between them, food particles and plaque can get stuck more easily, cause tooth decay, or lead to chronic bad breath. Invisalign clear aligners can shift your teeth in a way that will eliminate the extra space.
Bite Alignment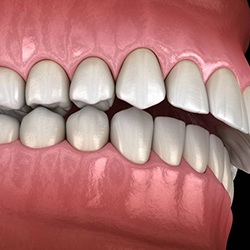 Overbite, underbite, crossbite, open bite – these are all different bite alignments that Invisalign can address. When your bite is off, it can spell disaster for the rest of your oral health, leading to chronic jaw pain, excessive wear and tear on your teeth, and increased risk of developing tooth decay and gum disease. Invisalign is one of the most effective ways to shift your bite into proper alignment. These clear aligners do more than just make your treatment nearly invisible to others, they can move your teeth and jaw in a way that will keep you from experiencing extreme discomfort all while improving your oral health.
The Benefits of Invisalign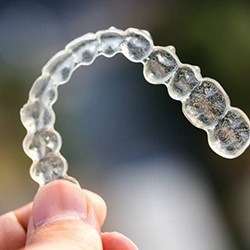 When you look at smiles of the rich and famous you consider beautiful, they most likely share something in common—they're perfectly straight! But straight teeth have more advantages than just social status. They also can make you feel good about yourself, improving your self-esteem and self-confidence, and we think you have the right to be happy!
At first glance, clear aligners can seem too good to be true, but the truth is that Invisalign® works! The key is the level of precision you'll get when you have Dr. Jack Markusen working on your alignment. He has worked with this treatment for many years so far. There are several advantages to the combination of his expertise and this tried-and-true aligner system.
More Comfort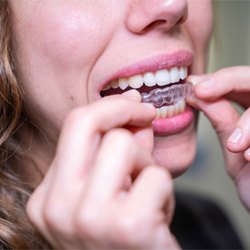 With Invisalign, you get to avoid uncomfortable wires and rough metal brackets. The Invisalign aligners have smooth plastic, which is much gentler on your soft tissues. Although you may experience some soreness when you transition to a new set of aligners, it's nothing compared to the soreness from tightened braces.
Shorter Timeline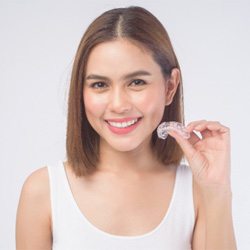 Metal brackets and wires require a lot of time to achieve a perfectly straight smile. Instead of waiting several years for results from traditional braces, you'll be finished in about 12 months with Invisalign.
Less Visibility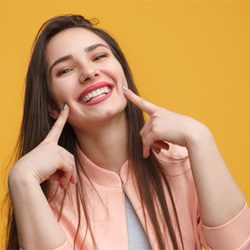 Invisalign® is an ideal solution because it eliminates the self-consciousness that comes with traditional braces. When the aligners are in your mouth, you can barely see them, helping you maintain your appearance while you make changes to your smile. As a result, you don't have to worry about hiding your smile during treatment.
More Convenience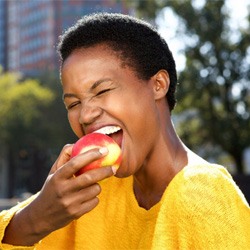 Unlike traditional braces, Invisalign does not come with a list of foods to avoid. Because you can remove the aligners whenever you like, you'll enjoy an unrestricted diet while you straighten your teeth. Also, you can keep your smile clean more easily than with traditional braces because you won't have to navigate around brackets and wires. Easier cleanings means a decreased risk of tooth decay and gum disease over the course of treatment.
Better Health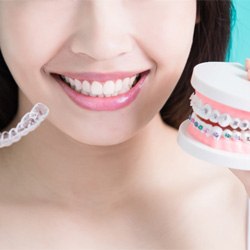 You'll enjoy health benefits from a straight smile too. When your upper and lower teeth aren't aligned properly, jaw pain becomes more common. You may experience relief from dental aches and pains as the pressure in your jaw is balanced. Plus, when your teeth no longer overlap, you'll find that they're easier to clean, reducing your risk for tooth decay and gum disease.
Make Your New Smile Shine with Teeth Whitening After Invisalign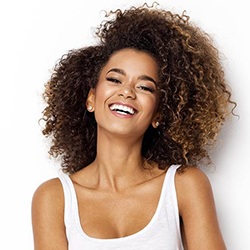 Once your realignment is complete, you may be interested in improving the color of your smile. After all, the only thing better than a straight smile is a straight, bright smile! You can enjoy professional teeth whitening from DocMark.com as a complement to your improved alignment.
Studies have shown that those with bright smiles and pleasing appearances fare better in social situations like job interviews and dating. You deserve to enjoy these benefits by looking your best and showing off your pearly whites.
How Much Does Invisalign Cost?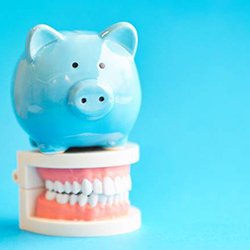 When it comes to choosing an orthodontic treatment, the number one question people ask is, "How much will it cost?" While it is understandable that price is often the leading factor in a decision-making process, it should never be the one thing that keeps individuals from moving forward with necessary dental or orthodontic care. Fortunately, what you might not realize is that treatments like Invisalign in Myrtle Beach can be more affordable thank you think. Dr. Jack Markusen and his team proudly accept multiple dental insurance plans as well as offer available financing options to help keep you within your budget. To learn more about how we can help you achieve a new smile without emptying your wallet, contact us today!
What Factors Influence the Cost of Invisalign?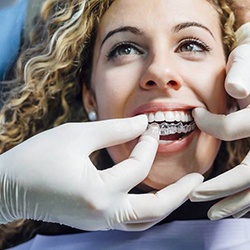 As you begin to learn more about the process and factors associated with Invisalign, you will discover there are multiple factors that contribute to the overall cost of your treatment. Some of these include:
How many clear aligners you will need to achieve the results you desire
How severe your orthodontic problem is at the start of your treatment
Whether you will require only a top or bottom aligner or both
Whether you will need any pre-orthodontic dental care (i.e. tooth extraction, periodontal therapy)
The type of retainer you will need to wear when finished with Invisalign treatment
Is It Worth the Investment?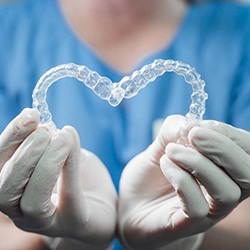 As you begin to survey the pros and cons of each orthodontic solution, you will likely discover the benefits of Invisalign cannot be achieved with other forms of treatment, such as:
A discreet solution that doesn't compromise your daily appearance or shine a spotlight on your treatment
Greater flexibility because the trays can be removed when eating, drinking, or when preparing for a special event
Faster results that allow you to complete treatment more quickly and begin enjoying a healthier, more beautiful smile
The Importance of a Consultation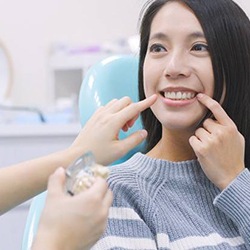 Even if your mind is already made up that Invisalign is the right solution for you, the actual decision as to whether you are eligible for treatment is up to Dr. Markusen. While there are clear aligner systems offered by various companies that allow you to "do-it-yourself," you may discover that they actually cause more harm to your smile. This is why a consultation with a professional is crucial. Not everyone is a good candidate for Invisalign and will require more traditional methods to achieve results (i.e. metal braces).
However, by choosing to see Dr. Markusen, he can evaluate your smile and facial structure and provide the appropriate recommendation for treatment. Not to mention he will be with you through the entire process, ensuring your smile is moving in the right direction from day one.
Invisalign FAQs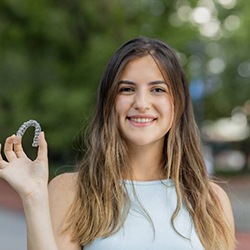 When it comes to receiving treatment with Invisalign, there are a lot of intricate details you might not think to ask about or expect. Because of his level of expertise, Dr. Markusen can map out and see what is to be expected regarding your new smile, and the best part is, so can you! Before you begin your personalized treatment plan, we've taken the time to compile some frequently asked questions about Invisalign for you to review.
How Will I Know What My Smile Will Look Like Once I'm Done with Invisalign?
Using the iTero 3D® Scanner, Dr. Markusen will take impressions of your teeth. The small, handheld wand takes scans of your smile and projects them onto a screen. Capturing all the crevices, nooks, and crannies of your teeth and gums, this will not only serve to build a smile sequence of what you can expect your smile to look like at different intervals of treatment, but it will also assist the dental lab technicians in building your custom restorations.
With this new and advanced technology, there is no need for cold, messy dental putty or guessing what your smile will look like when finished. It also eliminates the possibility of ill-fitting aligners, creating a more comfortable experience for you.
Should I Expect Some Surprises Along the Way While Receiving Treatment?
Fortunately, the answer is no. Invisalign has been around for more than 20 years, and with so much research available, as well as a knowledgeable dental expert like Dr. Markusen, he knows exactly what can happen and how to fix it should a problem arise.
How Will Having Straighter Teeth Improve My Life?
If you've been living with crooked, misaligned, overcrowded, gapped teeth or an improperly aligned bite, you might notice that you have problems with tooth decay, cavities, or gum disease. While none of these issues are uncommon, they certainly don't help to improve your oral health. By taking the steps and making the decision to choose Invisalign to correct your smile, you're making an investment in the future of your teeth and gums.
When your oral cavity is in good shape, your body benefits as well. While overcrowding can make it difficult to clean between your teeth, Invisalign can create necessary space and make it possible to thoroughly clean and possess a healthy smile. Before you know it, you'll not only see and enjoy a more aesthetically pleasing smile, but you'll also have a chance to improve the status of your oral health.
How Do I Clean My Aligners?
Invisalign is highly favored for many reasons but one of those is the fact they are extremely easy to clean and maintain. Apart from keeping them in a protective case while eating or drinking, all you need to do is use lukewarm water, clear soap, and a toothbrush to clean off any dried saliva and harmful bacteria. Make sure to rinse them well before reinserting your trays back into your mouth.
What Should I Do If I Lose an Aligner?
We understand that accidents happen and the clear plastic aligners can be easily misplaced, which is why we're here to help as quickly as possible if you lose an aligner. Give us a call right away, so we can act quickly. Depending on where you are in your treatment plan, we may have you wear your last set until we get a replacement, or we may have you move forward and put in the next set of aligners. Either way, you may have a short delay in treatment.
Does Dental Insurance Cover Invisalign Treatment?
It depends on your plan. Many insurance companies include benefits for orthodontic care; however, some do not apply to Invisalign or other clear aligners. You'll need to reach out to your insurance provider or ask our team of insurance experts to learn more details about what is and isn't covered in your policy. We'll do our best to answer your questions and help you know the exact amount you'll owe out-of-pocket.
Will the Invisalign Aligners Affect My Speech?
Most patients do not experience a difference in their speech while the aligners are in; however, there are some who develop a slight lisp when they start Invisalign. With practice and time, the lisp should go away, and you could acclimate to talking with the aligners in your mouth. If you continue to struggle, you may need to talk to Dr. Markusen, who can make sure the aligners are fitting perfectly.
Will I Have to Wear a Retainer after Invisalign Treatment?
Yes, wearing a retainer is required if you want to keep the results you've earned. If you do not wear your retainers as instructed, your teeth can revert back to their old positions. Retainers make sure that the teeth stay in place as the jawbone fully recovers from treatment. The good news is that you should have to wear the retainers all day and night for a couple of months before just needing to wear them at night.
Can I Get Cavities While Wearing Invisalign?
It is possible to get cavities while undergoing Invisalign treatment. That's why we strongly encourage proper oral hygiene. After any time you eat or drink something other than water, you must brush and floss your teeth before putting the aligners back in. Otherwise, bits of food or traces of beverages can become trapped onto your teeth. As the bacteria in your mouth feed on these bits, they can create acids that erode your tooth enamel, leading to decay.