Invisalign® Clear Braces - Myrtle Beach, SC
Get No-Fuss Teeth Straightening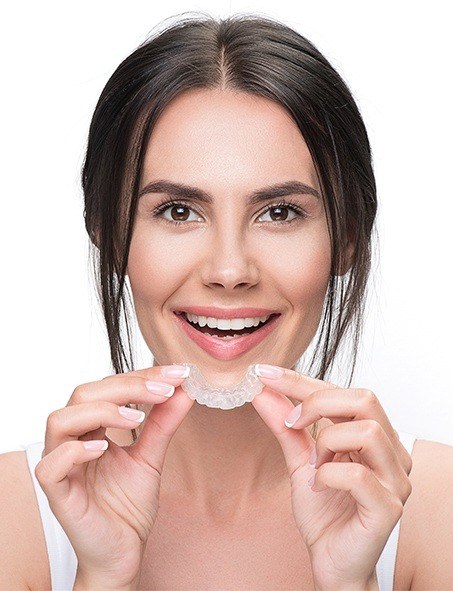 If you want a straighter smile, you may feel like your options are limited. Maybe you missed out on visiting the orthodontist as a teenager and now you're worried about having braces as an adult. Avoid the awkwardness of adult braces and ask us about Invisalign from Dr. Jack Markusen! These clear aligners from DocMark.com offer the best of both worlds: straighter teeth and a mouth free of metal.
Why Choose DocMark.com for Invisalign® Clear Braces?
Straighten Teeth Seamlessly – No Wires & Brackets Required
See Tooth Movement Ahead of Time With State-of-the-Art iTero Technology
40+ Years of Proven Clinical Expertise
Enjoy The Aesthetic And Functional Benefits Of Invisalign®
Clear aligners can sometimes seem too good to be true because not everyone understands how Invisalign® works. But the key is the level of precision you'll get when you have Dr. Jack Markusen working on your alignment. There are several advantages to the combination of his expertise and this tried-and-true aligner system:
There are no surprises. This process has been around since 1997, so we know what to expect.
You get to avoid uncomfortable wires and sore teeth from tightened braces.
Instead of waiting several years for results from traditional braces, you'll be finished in about 12 months.
Invisalign® is an ideal solution because it eliminates the self-consciousness that comes with traditional braces. But that's not the only benefit:
Because you can remove the aligners whenever you like, you'll enjoy an unrestricted diet while you straighten your teeth.
You can keep your smile clean more easily than with traditional braces because you won't have to navigate around brackets and wires.
Easier cleanings means a decreased risk of tooth decay and gum disease over the course of treatment.
Know What Your Smile Will Look Like With the iTero 3D® Scanner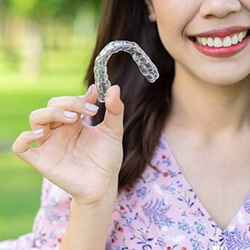 Invisalign treatment begins with an impression of your teeth. You can avoid the goopy impressions that make you want to gag with the iTero® scanner. We use this technology to quickly and comfortably scan all of your teeth. The camera will take thousands of images each second and immediately create a perfect 3D model of your smile on the computer screen.
We use this comprehensive model to plan your treatment. The images will help create aligners that fit your teeth exactly as they should. No more issues with poorly-fitting aligners! Plus, we will use the digital images to show you what your smile will look like after treatment. It's called the Invisalign Outcome Simulator. When you're ready to begin treatment, your aligners will be delivered quicker than normal because of the high quality and accuracy of these digital impressions.
See How Straight Teeth Can Improve Your Life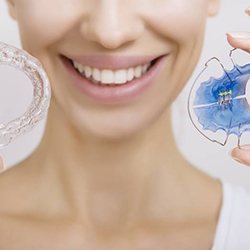 Straight teeth have more advantages than just social status. They also can make you feel good about yourself, improving your self-esteem and self-confidence. And we think you have the right to be happy!
You'll enjoy health benefits from a straight smile too. You may experience relief from dental aches and pains as the pressure in your jaw is balanced. Plus, when your teeth no longer overlap, you'll find that they're easier to clean, reducing your risk for tooth decay and gum disease.
Take Your Smile to The Next Level With Teeth Whitening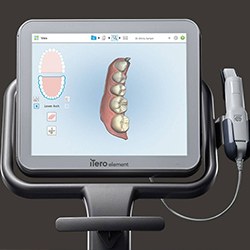 Once your realignment is complete, you may be interested in improving the color of your smile. After all, the only thing better than a straight smile is a straight, bright smile! You can enjoy professional teeth whitening from DocMark.com as a complement to your improved alignment.
Studies have shown that those with bright smiles and pleasing appearances fare better in social situations like job interviews and dating. You deserve to enjoy these benefits by looking your best and showing off your pearly whites.
Indications for Invisalign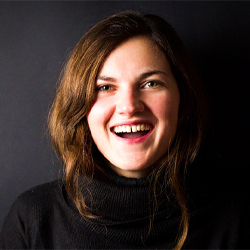 If you think Invisalign in Myrtle Beach only corrects crooked teeth, you'll be surprised to learn just how versatile this cosmetic dentistry solution can be! If any of the indicators listed below apply to your situation, Dr. Markusen might suggest Invisalign to correct the problem.
Crowded Teeth
Are your teeth sitting too close together? Do you have trouble flossing between them or find that you are prone to cavities? Our cosmetic dentist in Myrtle Beach can use Invisalign to create the necessary space, so you can more effectively clean your teeth and gums and achieve optimal oral health.
Learn More About Invisalign for Crowded Teeth
Spaces Between Teeth
If it's too much space that is plaguing your mouth, Invisalign can help with that, too. Gaps between teeth can be problematic when food gets trapped. If bacteria builds, it can cause tooth decay and even bad breath. Invisalign clear aligners can shift your teeth in a way that will eliminate the extra space.
Learn More About How Closing Spaces With Invisalign Works
Bite Alignment
Overbite, underbite, crossbite, open bite – These are all different bite alignments that can cause serious oral health problems if left untreated. Not only will you have wear and tear on your teeth, but you could even begin having problems with TMJ/TMD. Invisalign can shift your teeth so they become properly aligned, eliminating future problems or issues.
Learn More About Invisalign for Bite Alignment
Travel the Path to a Straighter Smile with Invisalign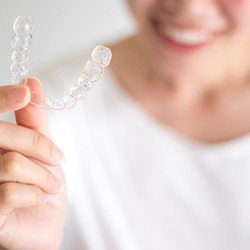 Your journey begins with an in-depth consultation, wherein we'll determine whether Invisalign is right for you. Then, we'll use our advanced technology to take images and impressions of your teeth so we can design your aligners. Once your aligners are ready, you'll wear each one for 20 – 22 hours each day for about two weeks. After you work your way through all of your aligners, we'll provide you with a retainer so you can maintain your beautiful new smile.
Learn More About How Invisalign Works
Cost of Invisalign
As one of the most versatile forms of orthodontic treatment available, Invisalign is quickly becoming a popular option for many patients. Although it is known for being more expensive than traditional braces, most individuals discover the benefits far outweigh the initial, upfront cost. From greater flexibility and minimal irritation to a more discreet form of treatment and faster results, the cost of Invisalign is one many are willing to invest in to achieve a new and improved smile.
Learn More About the Cost of Invisalign
Invisalign FAQs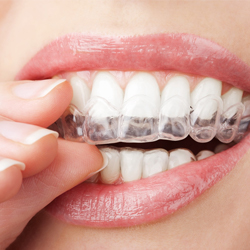 When it comes to receiving treatment with Invisalign, there are a lot of intricate details you might not think to ask about or expect. Because of his level of expertise, Dr. Markusen can map out and see what is to be expected regarding your new smile, and the best part is, so can you! Before you begin your personalized treatment plan, we've taken the time to compile some frequently asked questions about Invisalign for you to review.
How will I know what my smile will look like once I'm done with Invisalign?
Using the iTero 3D® Scanner, Dr. Markusen will take impressions of your teeth. The small, handheld wand takes scans of your smile and projects them onto a screen. Capturing all the crevices, nooks, and crannies of your teeth and gums, this will not only serve to build a smile sequence of what you can expect your smile to look like at different intervals of treatment, but it will also assist the dental lab technicians in building your custom restorations.
With this new and advanced technology, there is no need for cold, messy dental putty or guessing what your smile will look like when finished. It also eliminates the possibility of ill-fitting aligners, creating a more comfortable experience for you.
Should I expect some surprises along the way while receiving treatment?
Fortunately, the answer is no. Invisalign has been around for more than 20 years, and with so much research available, as well as a knowledgeable dental expert like Dr. Markusen, he knows exactly what can happen and how to fix it should a problem arise.
How will having straighter teeth improve my life?
If you've been living with crooked, misaligned, overcrowded, gapped teeth or an improperly aligned bite, you might notice that you have problems with tooth decay, cavities, or gum disease. While none of these issues are uncommon, they certainly don't help to improve your oral health. By taking the steps and making the decision to choose Invisalign to correct your smile, you're making an investment in the future of your teeth and gums.
When your oral cavity is in good shape, your body benefits as well. While overcrowding can make it difficult to clean between your teeth, Invisalign can create necessary space and make it possible to thoroughly clean and possess a healthy smile. Before you know it, you'll not only see and enjoy a more aesthetically pleasing smile, but you'll also have a chance to improve the status of your oral health.
How do I clean my aligners?
Invisalign is highly favored for many reasons but one of those is the fact they are extremely easy to clean and maintain. Apart from keeping them in a protective case while eating or drinking, all you need to do is use lukewarm water, clear soap, and a toothbrush to clean off any dried saliva and harmful bacteria. Make sure to rinse them well before reinserting your trays back into your mouth.