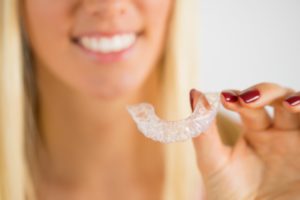 James Earl Jones, Nicole Kidman, and Bruce Willis each overcame stuttering problems in their youth to become superstars. Olympic champion Michael Phelps didn't let his lisp stop him from reaching legendary status. One of the main benefits of wearing Invisalign is that it is unnoticeable to most people, but this could be overshadowed if it ends up changing the way you speak. Keep reading to learn from your dentist in Myrtle Beach what to expect when speaking with Invisalign.
Is It Likely Invisalign Will Alter My Speech?
While wearing Invisalign could potentially mean changes to the way you speak, it is quite unlikely. A study by Verena Nedwed found that 93 percent of dental patients did not experience any speech changes while wearing Invisalign. For those who did, a subsequent study revealed that 46 percent did not have any lasting difficulties.
How Can Invisalign Change the Way I Talk?
Any type of dental appliance could potentially alter speech because the available space inside the mouth is changed, as is the tongue's room to move. A lisp, which occurs when the "s" and "z" sounds are pronounced like "th," is a possibility. A lisp is a result of improper tongue placement affecting airflow in the mouth. While a lisp could develop due to the aligners, it should not take long for the tongue to adjust. It is important to keep your head very still during the molding process for your aligners to avoid the possibility of causing a lisp later.
Also, simply because your mouth feels different while wearing Invisalign, you may slur your words and speak a bit slower. The best way to move past this stage is to talk often so that your tongue gets used to functioning with your aligners in place. There are many ways to get some practice, such as reading aloud, singing your favorite song in the shower, or even memorizing a speech or poem that you enjoy.
Once You Adjust to Having Invisalign, It Won't Be an Issue
Invisalign aligners are made of very thin plastic, they fit very snugly, and they only cover the tooth surface. These characteristics should mean speech changes are slight and will naturally fade over time. Whether it takes hours or a few weeks, if you do have any difficulties, it should only be a matter of time before you get comfortable speaking with Invisalign.
Be sure to ask your dentist in Myrtle Beach any questions you have about Invisalign during your consultation. You should definitely see a dentist you trust since their work being precise during the molding process for your aligners can greatly reduce the chances of any speech issues.
About the Author
Dr. Jack Markusen first opened a dental office in Conway decades ago before he relocated his practice to Myrtle Beach. He counts on his experience, cutting-edge technology, and being attentive to the needs of patients to create highly successful treatment plans. Dr. Markusen offers a complimentary smile exam for every new patient so that you can get the most out of your dental care. If you are interested in Invisalign, he can show you what your smile will look like via an iTero 3D Scanner, plus dental insurance is welcome and flexible financing is available. You can schedule a consultation on his website or by calling (843) 916-0990.