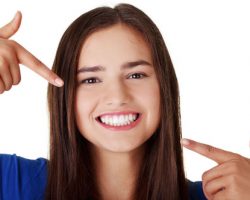 Halloween will be here again in a few weeks. It's a fun time for children and adults to get dressed up for a night of fun festivities. Whether you are going out dressed as your favorite superhero, some kind of monster, a celebrity, or something else, it's kind of enjoyable to no worry about how you look when you go out for the evening.
If you don't like your smile, however, you may feel self-conscious about meeting people or going out with friends. Fortunately, you can do something about it. Improving smiles is one of our favorite things to do at DocMark General & Cosmetic Dentistry in Myrtle Beach, SC.
You might be surprised by how a change to your teeth can boost your confidence. Today, we are sharing three ways you can transform your smile at our office. Call 843 916-0990 today to learn more or to schedule a consultation to find out which service is right for you.
1. Straighten Your Teeth
It would be wonderful if everyone had perfect smiles, but it's rare for anyone to have perfectly straight teeth. Many people get braces as teens to correct crowded and crooked teeth, to fix bite issues, or to close gaps between teeth.
Maybe you didn't have orthodontic care when you were younger, but you wish you had. Maybe you did wear braces, but your teeth relapsed or moved back toward their original positions.
In either case, you may be looking for a way to create the straight smile that you want to see when you look in the mirror.
Invisalign® aligners may be just the solution you need. Instead of brackets and wires, you can wear a series of clear aligners to gently push your teeth into your desired positions. This is a more discreet way to correct the flaws that you want to change.
2. Whiten Your Smile
Teeth whitening has been one of the most popular cosmetic services for decades. It's understandable. Your smile looks nicer when it looks brighter. Some studies even suggest that whiter teeth can make you look younger, too.
As we get older, it's normal for our teeth to gradually develop more stains and discoloration. Professional teeth whitening under the supervision of a dental professional is the most effective way to remove those deep stains. For fast results, schedule an in-office treatment. To make improvements on your own time, ask about our take-home options.
3. Fix Multiple Flaws at the Same Time
You may have teeth that are crooked and stained. You may have chipped tooth and a gap between some of your teeth. You may have a broken tooth and some discoloration in your smile.
Regardless, dental veneers can correct all these issues simultaneously. Veneers are designed to fit your teeth. They are bonded to the front of your smile to create the outward appearance you want others to see.
You'll see that veneers are one of the most versatile services in modern dentistry.
Create Your Dream Smile
Stop dreaming of a better smile. Take control of your situation.
Call 843 916-0990 or contact DocMark General & Cosmetic Dentistry online today. Request a consultation to find out which service or services can create the smile you want.