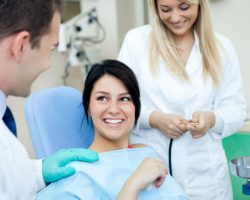 There's still some lazy days of summer left. But your kids will be back to school before you know it. Their days won't be lazy anymore. Homework and school activities will fill their schedules. While it's often hard to make time for dental appointments, it gets especially tough once the school year gets going. So it's a good idea to get caught up on dental exams and cleanings and other routine care before school starts.
Send your kids back to school in great dental health! Call our Myrtle Beach, SC dental office today at 843 916-0990 to make appointments for your children. Unlike some general dentists, we offer Friday hours, so it's easier to find time to see Dr. Jack Markusen.
If you've got older children, you might also want to send them back to campus with smiles improved by cosmetic dental procedures. A boost in their self-confidence will do them good!
Don't Let Your Kids Fail at Dental Health 
Dental exams and cleanings are critical to dental health. We suggest an exam and professional dental cleaning every six months for you and your family members. Once school starts, calendars fill fast. So it makes sense to book exams for your kids now. Go ahead and schedule one for yourself too; chances are you'll soon be busy driving your school-age kids all over town.
Dr. Markusen will make sure your children's teeth are developing as they should. He may suggest preventive dentistry treatments such as applications of fluoride or dental sealants, to help prevent cavities and keep their teeth in great shape.
We'll thoroughly clean their teeth, to remove the plaque that causes cavities and other problems. Even if your children brush and floss regularly at home, they can miss areas between the teeth and around the gumline. At our Myrtle Beach, SC office we use a piece of fancy equipment called a piezoelectric ultrascaler for dental cleanings. It helps us remove plaque with less uncomfortable scraping.
If Dr. Markusen finds any cavities, he can repair them with a filling. Your family's safety is important to us, so we use only metal-free fillings. Because our fillings are tooth-colored composite resin, they also blend in naturally with your smile. Even if your kids are self-conscious about their appearance these days, they won't feel that way about their smile!
You'll want to get exams and cleanings for your college-age kids too, especially if they live away from home. It's even harder to keep tabs on them, and their oral hygiene habits may suffer on campus. Let us examine and clean their teeth before you send them back to school.
Put Your Kids' Smiles at the Top of the Class With Cosmetic Dentistry
If you've got children in high school or college, consider improving their smiles with cosmetic dental treatments before school starts. They'll be more confident, in both social and academic settings, with a great-looking smile. Confidence is important, whether you're asking someone out or interviewing for an internship.
Crooked teeth can impact not only their appearance, but their overall oral health. If they've resisted orthodontic treatment because they didn't want a mouthful of metal braces, we can straighten their teeth with Invisalign. They'll wear aligners made of clear plastic instead of metal brackets and wires. Because the aligners are removable, they can even take them out for meals; no more avoiding sticky or crunchy foods.  
We offer other cosmetic dental treatments in our Myrtle Beach, SC office too, including:
Professional teeth whitening. You can choose a treatment in our office or one you can use at home for added convenience. We use a professional-strength gel that offers one of the highest concentrations of whitening ingredients available available in a take-home kit.
Dental veneers. We offer several different options, including low-prep and no-prep veneers. Dr. Markusen is a member of both the American Academy of Cosmetic Dentistry and the Academy of Comprehensive Esthetics. So he'll help you select the solution that is best for your smile.
Schedule your family's back-to-school dental appointments today. Call DocMark General & Cosmetic Dentistry at 843 916-0990.