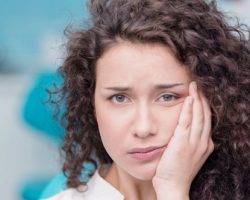 You want a smile that will turn heads and drop jaws. What you don't want is a smile that makes it difficult for you to turn your head or open your jaw! If you have TMJ dysfunction, the second scenario may sound familiar. It doesn't have to; call DocMark General & Cosmetic Dentistry at 843 916-0990 to see how we can offer you a nonsurgical solution to your dental problems. Unless you receive treatment from a qualified Myrtle Beach, SC dentist, you may continue to suffer pain in a few areas of your body
Jaw
Head
Neck
Shoulders
Back
But a customized TMJ treatment plan and oral appliance from Dr. Markusen can bring you the relief you've been longing for.
Recognizing Factors That Contribute To TMJ Dysfunction
We don't know the exact cause of TMJ dysfunction. What we do know is that your TMJ – your temporomandibular joint – is the part of your head that attaches your jawbone to your skull. And when your TMJ isn't happy, the rest of your body usually isn't, either. In addition to pain throughout your upper body, TMJ dysfunction can create a few other symptoms:
Clicking when you try to open or close your jaw
A jaw that actually "locks" open or closed
Swelling around your jaw, face, or neck
Aches or pains in and around your ears
In addition to TMJ dysfunction, you may find that you have a habit of grinding or clenching your teeth at night. A lot of folks don't recognize their bruxism (the technical term for teeth grinding), which makes it all the more important for you to get a dental exam in Myrtle Beach as soon as possible if you've got TMJ pain.
Dr. Markusen has the skills to recognize the unique symptoms of TMJ dysfunction. He won't mistake it for another condition like an abscessed tooth or nerve damage. We'll take digital X-rays – which are safer than traditional film X-rays – and study the results to make a diagnosis.
Getting The Treatment You Deserve And Ending TMJ Pain For Good
Dr. Markusen is a provider of the NTI Tension Suppression System. We prefer this method for treating TMJ because of the success shown in its clinical trials. In just eight weeks, 82 percent of patients saw a 77 percent reduction in migraine episodes!
The NTI-tss method uses an oral appliance distinct from anything you've ever had before. It's not like an athletic mouthguard or a boil-and-bite mouthguard you might pick up at a drugstore. Dr. Markusen will create your appliance based on your mouth's exact measurements, and as a result, it will fit you perfectly.
The first thing you'll notice about your NTI-tss mouthguard is how unobtrusive it is. It's a small device that just snaps onto your front top or bottom teeth. We're certain that the next thing you'll notice is how restful your first night of sleep is while wearing it!
You see, the point of the NTI-tss mouthguard is to reduce the amount of stress you're putting on your TMJ and your tooth enamel. Grinding and clenching your teeth aggravates existing TMJ problems and may cause them. And these habits are damaging to the surface of your teeth. You may be wearing down your enamel, which does not grow back.
Don't Settle For TMJ Discomfort And Mouth Pain
Maybe you don't want to come in for TMJ dysfunction treatment. Maybe you'd like to wait and see if your problem will resolve itself. You're welcome to do that: unlike tooth decay and gum disease, TMJ dysfunction doesn't put your overall health at risk.
But it can get worse over time.
When you're stressed out, you're more likely to grind or clench your teeth at night. Stress is the #1 trigger for bruxism. As you probably have discovered, your jaw pain and discomfort makes for sleepless nights. And your body's response to missing quality sleep is … stress hormones! You may find yourself in a never-ending cycle of stress and jaw pain.
It's time to break the cycle.
Considering Other Risk Factors With TMJ Disorder
While TMJ dysfunction does not endanger your life, it can be associated with more serious conditions. Seeking treatment for TMJ pain may unearth an underlying condition that's more serious, like:
Poor bite alignment – The way your upper and lower teeth fit together. Poor alignment can affect your posture and ability to chew.
Crooked teeth – Individual teeth sometimes overlap with each other, making them difficult to clean. This can result in a greater risk of tooth decay and gum disease.
Sleep apnea – While this condition is often marked by snoring, not all individuals with sleep apnea are snorers. Unlike TMJ dysfunction, sleep apnea is a disorder that can result in death.
TMJ dysfunction can disrupt your life and rob you of quality sleep. Our simple, fast, effective solution is noninvasive and can give you your life and restfulness back.
Call DocMark General & Cosmetic Dentistry today at 843 916-0990 or contact us online to see how we can get you out of pain and into a comfortable sleep.